The Advantages of Disposable Wooden Plates in the Catering Industry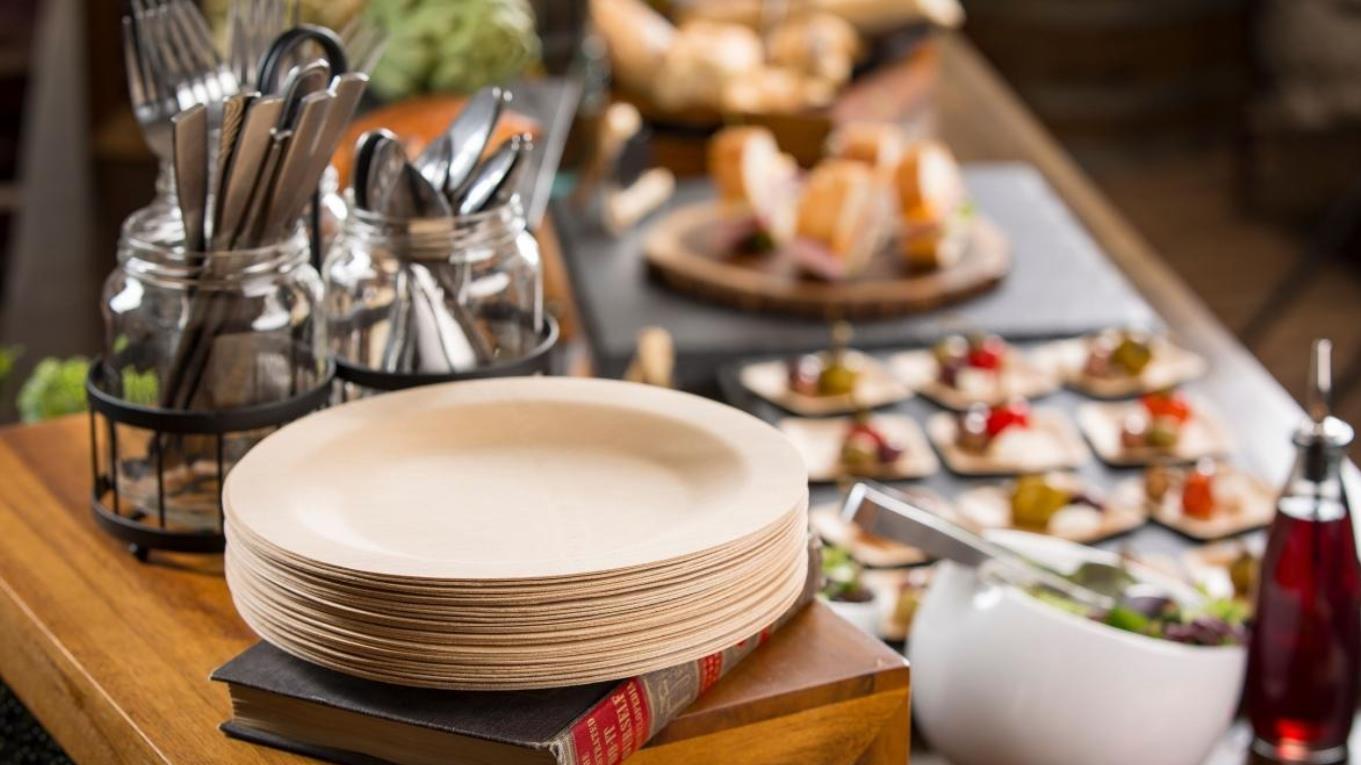 Most people think of plastic when they mention disposable tableware, but as we all know, there are many types of disposable tableware. Especially disposable wooden plates are a very good solution used by many restaurants. This is due to safety, hygiene, and the design and care of the images they provide.
In this article, we will discuss the great advantages of disposable wooden plates.
If you have a restaurant, bar, catering, or any other business related to the hospitality industry, a great way to save staff time and costs (water and electricity) is to use disposable cutlery.
With disposable wooden utensils, you can ensure that people who used to only need to wash plates can now do other things all the time. Instead of worrying about time-consuming tasks like washing plates, drying, polishing, etc., a new reality emerges.
Not only that, but you also save a lot of water, cleaning products, and a lot of electricity by having to use the dishwasher multiple times.
2. Original Beautiful Designs for Your Restaurant
One of the big advantages that disposable wooden plates definitely offer is that they are distinctive, original, and eye-catching. When we see a plate of food, the packaging and presentation first grab our attention, and if it gets to our eyes first, we'll be more eager to eat it. Plus, it's a showcase card for your restaurant that will be something your customers will always remember when they remember your location.
Social networks allow us to share everything, and one of the things we share the most is the food on our plates. Disposable wooden plates are most commonly used by vegan and eco-friendly restaurants but are also increasingly used by restaurants because of their popularity.
This is because of the wide variety of restaurants, so many options to choose from, and more and more consumers are looking for good products, but presented in an original way. So one of the great advantages of disposable wooden plates is that they can make a difference in the presentation of your food compared to a mediocre presentation, putting you at the forefront.
3. Use Disposable Wooden Plates to Protect the Environment
The great thing about disposable plates is that they are made of natural birch and are biodegradable. This means that in nature, they can only be broken down with the help of biological agents such as the sun, water, animals and plants. This makes waste management more efficient and does not harm our environment.
Also, we would like to emphasize that although they are disposable, due to their high quality, they can be washed and reused more times if required. It's better for the environment because it's a product that complies with the 3Rs: reduce, recycle and reuse.
There is no doubt that this type of disposable tableware is the future of the hotel and restaurant industry, as our philosophy is changing little by little, and more and more new generations want time, a well-designed and refined display, and Respect for the environment. If you want to buy disposable wooden plates, welcome to
contact us
.
Greenwood is a professional
custom disposable tableware manufacturer
with 20 years of experience. We have 5 production plants in China, which can complete the whole chain production of products, with an annual production capacity of 6 billion pieces. The products cover 116 types of bamboo and wood disposable tableware in 10 categories. At the same time, Greenwood's R&D center is also constantly studying the market demand and developing more wooden disposable tableware styles that are close to the market demand.